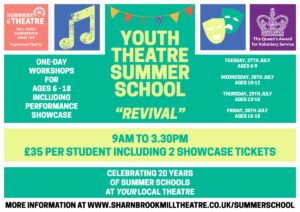 The Mill Youth Summer School is back!
That's right, this July will see the Youth Summer School running for the 20th Year at The Mill. We are so excited to be offering the summer school again and, to celebrate our special anniversary, the theme will be REVIVAL!
There will be some changes however to the normal format, to keep everyone safe…
Instead of running the school for all ages from Monday to Friday, this year we are offering a series of one day sessions for different ages:

Tuesday 27th July – 6 years to 9 years – FULL! Please email to be placed on the waiting list.
Wednesday 28th July – 10 years to 12 years
Thursday 29th July – 13 years to 15 years
Friday 29th July – 16 years to 18 years

Each day will run from 9am to 3.30pm, with a Showcase for parents/guardians at 4pm. We will allocate space for students and our audience to keep to any social distancing regulations. The day for the students will be a range of workshops and collaborative work to learn and develop performance and communication skills.
We will be limiting the groups to 15 people per day (if we can increase this nearer the time we will keep a waiting list!)
The cost will be £35 for each student (see booking form for details).
It's still going to be amazing! Paul, Lorna and Eve will be back to work with you on improvisation, music and dance. We won't be doing any singing this year, but music will feature!
Check out the Terms & Conditions for all the important, legal stuff!
Apply to attend the Summer School
To join us, simply fill in the Youth Summer School application form. This will send an email to our co-ordinator, Kathryn, and she will confirm your place ASAP. Any questions or queries, drop Kathryn a note and she will be happy to help.
We can't wait for you to be with us for fun, memories and creativity!