For the past few years, a small team has been working hard on behalf of Sharnbrook Mill Theatre to raise money for the Warm Up/Cool Down Appeal. This is our project to install a green-energy based heating and appropriate cooling systems for the whole of the Mill.
The Cool-Down Appeal
Now that the installation of the new water-source heat pump-based heating system has been completed, with the foyer being the last area to be covered, we have turned our attention to sorting out the cooling in the building – hence the renaming of the appeal.
Already, air conditioning has been installed in the rehearsal/club room and this has been fully funded and is much appreciated.
The next task is to find around £70,000 which is the cost of putting in air conditioning in the auditorium. To date, around £30,000 has been accumulated towards the target. In total, over £220,000 has been raised for the Mill's heating and cooling project, which has involved a great deal of hard work. The support we have received is much appreciated  
It is worth re-stating that in 2018 the new heating system was on a final shortlist for an international award made by the Chartered Institute of Building Services Engineers(CIBSE). At a prestigious event at the Grosvenor House Hotel in London last year it was encouraging to be find ourselves being considered with multi-million projects from Australia, Hong Kong  and Poland among others.  In the leisure category we came second to a multi-million sports centre project in Edinburgh, funded by the Scottish government! It was a great achievement to get to the final shortlist. The project was highlighted on TV.
There have been several events recently including the return of Lincoln Noel for Ruby Reflections, a celebration of 40 years at the Mill. He was joined by a number of Mill members for a joyous celebration of a significant anniversary. Then, in January 'An Evening of Clairvoyance' with Wayne Marriott was enjoyable and well-attended. Most recently Lucy Parham returned with Patricia Hodge and Robert Glenister to perform 'Nocturne The Romantic Life of Frederic Chopin' to a sell-out audience at the Quarry Theatre in Bedford. This was another magical evening.
Other events have included a lunch with a talk by Christine Swell about cheese-making and a Christmas flower workshop.
Currently, with our theatre closed because of COVID-19, we are pushing ahead with the installation of the air conditioning in the auditorium. Preparations have already been made, including the de-rigging of our lighting and sound equipment.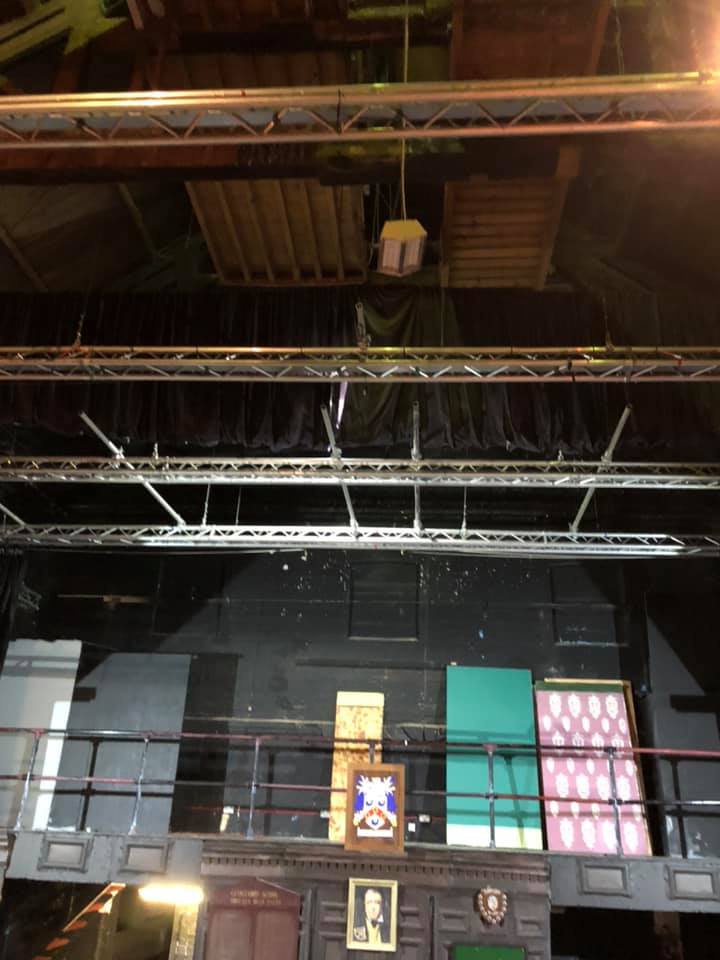 What you can do
You can join the 50/50 club – it only costs £1 a month and there are 3 good, cash prizes every month.
If you shop online and you're an Amazon customer, you can help The Mill without it costing you a penny (other than your item purchases!) Simply log into Amazon via Amazon Smile and they will donate 0.5% of Eligible purchases to SMTT! You just need to select us in the 'charity' section.
If you use other online sites, you can help via them too – register with www.easyfundraising/causes/sharnbrookmilltheatre.co.uk . Each time you shop, start your search by entering wwww.easyfundraising.co.uk  select us as the charity and continue with your purchase.
Mill supporters have already raised over £1000 by using these sites, so, if you're able to help in this way, please do – as a well known retailer says, 'Every Little Helps' and if all of us were able to support this way, it would really help the fundraising coffers. Thanks in advance and enjoy your shopping!
You can, of course, come along and support some of our fund-raising events or even organise a fund-raising, or sponsored, event in aid of the appeal.
Once we can get back to seeing friends properly, why not host a Coffee Morning or a Bring and Buy Sale to raise funds for The Mill? It would be great to get people back together with some social fundraising! If you're able to organise something – at home or maybe at The Mill – do get in touch with Brian (see below) or
drop us a message
to let us know what you'd like to do. The more creative the better!
Alternatively, if you would like to get involved with the hardworking team leading the fund-raising efforts, we can always do with more members! If you think that you could help in any way please contact Brian Woodrow – details are below.
Finding out more
If you need to know more about any fund raising activity and/or want to help us then please contact:
Brian Woodrow Flat 5,
27 The Embankment,
Bedford
MK40 3PE
Tel: 01234 349455
Email: brianwoodrow38@gmail.com