Welcome to Sharnbrook Mill Theatre
The Mill is a friendly, inclusive, open and award-winning community theatre, entirely run by volunteers and located in Bedfordshire, UK.
We produce four in-house shows each year in our historic theatre which was converted from an old mill. Alongside our productions, we host social events and workshops for members and welcome bands, dance schools and professional artists to our venue. Find out more here.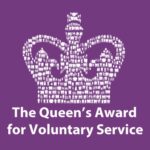 Our theatre was recently awarded the Queen's Award for Voluntary Service, equivalent to the MBE and the highest award a UK voluntary group can receive.
If you would like to become a member or get involved in any way, you can contact us here.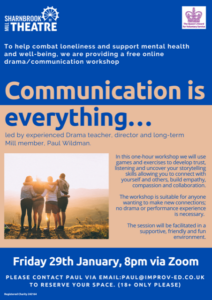 Friday, 29th January at 8pm - Communication workshop
To help combat loneliness and support mental health and well-being, we are running a free drama/communication workshop.
Led by experienced Drama teacher, director and long-term Mill member Paul Wildman, this one-hour workshop will use games and exercises to devleop trust, listening and uncover your storytelling skills.
This online workshop, for adults only, will be facilitated in a supportive, friendly and fun environment.
Read more or contact Paul to reserve your place.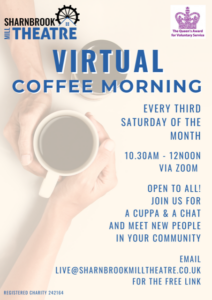 Saturday, 20th February - Virtual Coffee Morning
Every third Saturday of the month, we will be holding a Virtual Coffee Morning on Zoom, from 10.30am to 12 noon.
We hope these will create the opportunity for anyone and everyone to join us and have a casual chat. The events are open to members, non-members, locals, non-locals and those with or without an interest in the arts. There's no commitment to join all the meetings, or even stay for the whole time – just pop in as and when you can.
We are proud to be a community-centred society and want to open our 'virtual venue' to anyone who just fancies a cuppa and a chat.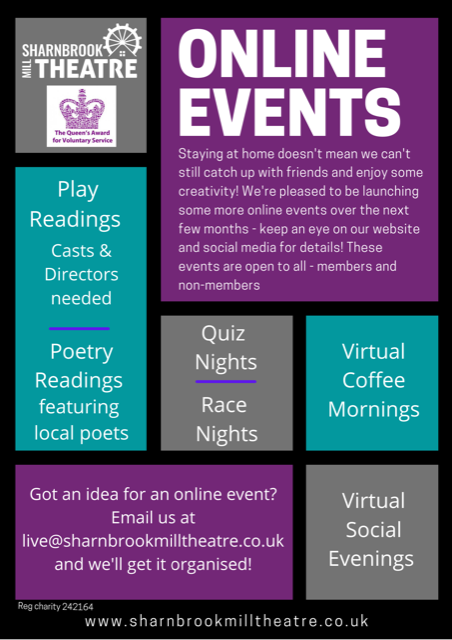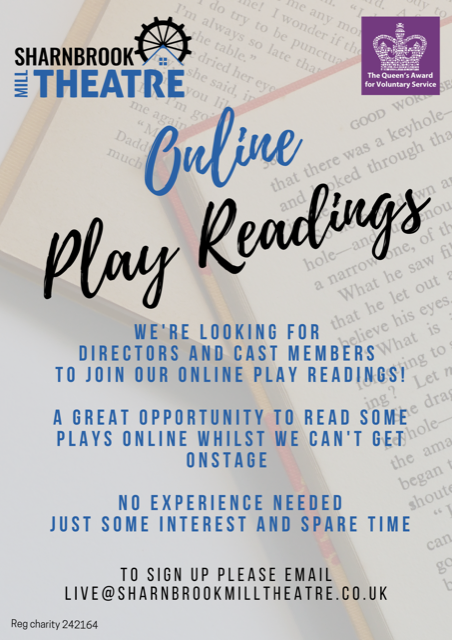 Coronavirus and Current activities

We have been working hard to ensure that the theatre is safe for everyone, in line with government regulations. Please see this page for our COVID-19 performance information.
We hope to open again with performances and other activities when the situation has sufficiently improved. In the meantime, we are focusing on online events.