Contribute through Online Shopping
You can help Sharnbrook Mill Theatre by connecting to us through the online shopping sites below – and it won't cost you a thing! Mill supporters have already raised over £1000 by using these sites, so, if you're able to help in this way, please do – as a well known retailer says, 'Every Little Helps' and if all of us were able to support this way, it would really help the fundraising coffers. Thanks in advance and enjoy your shopping!
Amazon Smile

Did you know that you can contribute to Sharnbrook Mill when shopping at Amazon? And it's completely free! All you need to do is to go to smile.amazon.co.uk and search for and select Sharnbrook Amateur Theatre Trust Limited as your charity. For qualifying purchases made through Amazon Smile, we will receive a percentage of the cost!
Amazon App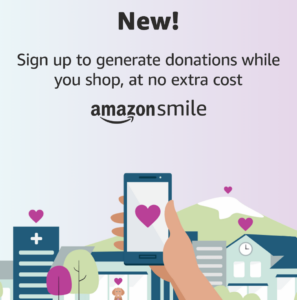 Want to help make a difference while you shop in the Amazon app, at no extra cost to you? Simply follow the instructions below to select Sharnbrook Amateur Theatre Trust Limited as your charity and activate AmazonSmile in the app. Amazon will donate a portion of your eligible mobile app purchases to us.
How it works
Open the Amazon app on your phone
Select the main menu (=) & tap on "AmazonSmile" within Programmes & Features
Select Sharnbrook Amateur Theatre Trust Limited as your charity
Follow the on-screen instructions to activate AmazonSmile in the mobile app
Easyfundraising
It's an easy way to raise money towards our appeal, and it doesn't cost you a penny. Every time you shop online with a participating retailer they make a donation to the Warm-Up Appeal for the Sharnbrook Mill Heating and Ventilating fund.
To find out how it works, and to sign up, visit the easyfundraising web site.