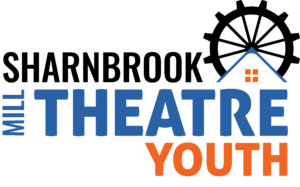 Sharnbrook Mill Theatre Youth works under the umbrella of the full society yet have a unique character of their own. Youth activities are led by a mix of fully-qualified teaching professionals, long-standing youth performers and also experts in a range of technical fields.
Summer School
If you'd like to find out about our annual Summer School for those aged 6-18, please visit this dedicated page on our website.
The Youth Passport

The Youth are the future of our society. Without them, there will be no productions in the future and it's our job, as custodians of Sharnbrook Mill Theatre Trust, to ensure that we have people trained in all elements of production to keep our special venue alive and well. Theatre is not just about performing, either, and so we came up with the idea of The Youth Passport.
The Mill is one of the few amateur theatre companies in the country who produce everything in house. Sets and costumes are made 'on site' and props are sourced from our own store, along with rehearsals taking place in our own rehearsal space. This means that we can open your eyes to the whole picture and develop skills for all areas, rather than just focusing on performance.
We plan to run a set of workshops, to train our young members in every main discipline of theatre. This will give them a rounded understanding of what is involved in producing a play or musical. This training will then be used to produce Mill Youth productions – performed, directed, designed, technically produced and marketed by our Youth members with supervision and support from adult members.
By using the enthusiasm and skills of some of our experienced adult members, and professional industry members, workshops will be run on the following disciplines:
Performance (Acting, Singing and Dance)
Production creation (Directing, Musical Direction and Choreography)
Technical (Lighting and Sound)
Backstage (Production Management, Stage Management and Backstage Crewing)
Design (Set and Costume with basic construction knowledge and running skills)
Marketing and Promotion
At the end of the rotation, there will be the opportunity for our Youth members to produce their own piece of theatre where they can put the skills learned into practice.
Plans are taking shape and you can expect to hear more about The Youth Passport in the very near future. In the meantime, for more information, or to get involved, please email Kathryn at youth@sharnbrookmilltheatre.co.uk
Safeguarding
The safety of our Youth members (and the adults tutoring and assisting them) is paramount and therefore all adults involved are vetted and have to obtain an Enhanced DBS Check. No adult will be on their own with a child at any point and we will always assign at least two adults to every activity involving our Youth members.
Show gallery
Below, you can see just a small sampling of the recent shows that have involved our Youth members.
Interviews
We have conducted interviews with our Youth Creative Ambassador, Youth Technical Ambassador and Youth Performance Ambassador which you can find below! Get an idea of what it's like to join Sharnbrook Mill Theatre for a production and find out more about the Youth and some of our future plans!