Young Playwrights' Showcase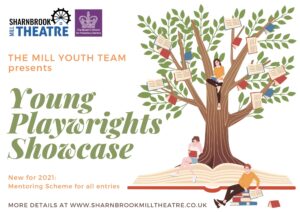 Open to anyone aged 13 – 18 years old, the showcase aims to give young writers the opportunity to create a 10 – 20 minute piece which will be performed by our youth section at a future date.
This year there will be some guidelines to help our young writers with their creative writing along with the chance to work with an adult mentor throughout the process (We are still looking for these mentors – please let us know if you might like to be involved!!).
Here is Connie, one of our Youth Ambassadors (and the person who came up with the idea) to tell you all about it:
Guidelines
The piece must have a theme of 'Revival' – how you choose to interpret the theme is up to you!
The piece must be written for a cast size of 1 – 5
Minimum of 10 minutes with maximum of 20 minutes running time
The piece must be performable at The Mill with minimal props and no set
Entering the Showcase
Please let us know that you would like to write something for the showcase by 30th April 2021. Final entries must be submitted to us by 28th August 2021 to be included. The email address to use for letting us know, and for sending your pieces to, is youth@sharnbrookmilltheatre.co.uk.
Interviews with past entrants
More information
For more information please email Kathryn at youth@sharnbrookmilltheatre.co.uk
Good luck!
The Youth Team