Gerald Dickens in A Christmas Carol – 12th December
A bah humbug of a show!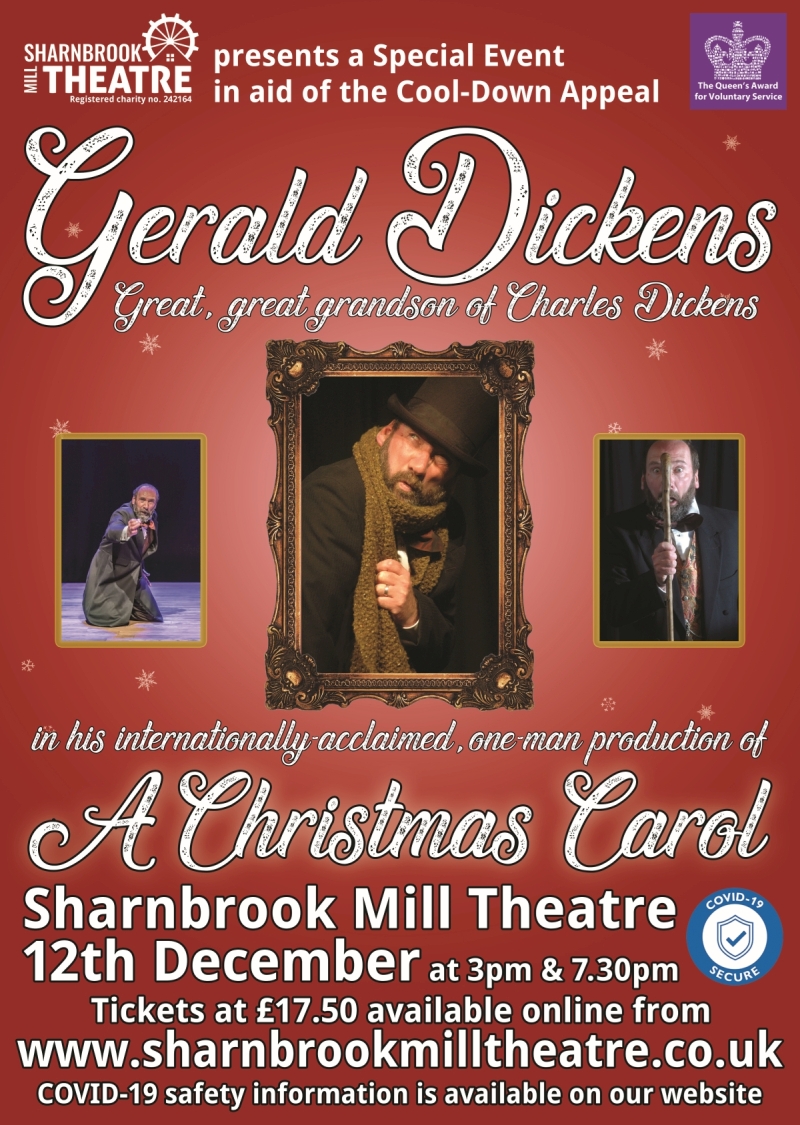 We are delighted to welcome Gerald Dickens, the great-great-grandson of celebrated author Charles Dickens, to Sharnbrook Mill Theatre this festive season.
On Saturday 12th December, for two performances only, Mr Dickens will perform his internationally-acclaimed, one-man show A Christmas Carol, based on the famous novel.
Mr Dickens will play over 30 characters, using vocal and physical talents to bring each scene vividly to life.
It will be the first performance our theatre has hosted since the country went into Lockdown in March.
Douglas Pope, Chairman of the Trust said:
"We are beyond excited to be opening again with such a prestigious show. So far this year we have had to cancel three of our own shows and several fundraising events, so to be able to reopen our doors and welcome back our supporters fills us all with pride as well as giving us a much needed boost. Our volunteers have spent so many hours over the past few months making sure the building is COVID-secure and also refurbishing and redecorating the theatre and our bar. This means anyone visiting our unique building will not only be surprised by the updates but also secure that we will be keeping them safe."
The event is in aid of the Cool-Down Appeal, our project to install air conditioning in the theatre.
Tickets
Very few tickets are now left for this event. Please visit Little Box Office for up-to-date availability. Tickets are £17.50 each and are mostly sold in pairs. Sorry, no single tickets are available.
We are delighted to say that the show is now SOLD OUT.
If you require a disabled/wheelchair space at a performance, please contact Alison Bean (01234 781372) and she will see if space is available.
If we are required by any COVID-19 government guidance or restrictions to cancel a performance, a full refund will be given.
Your seats will be allocated on admission to the theatre by Front of House volunteers to ensure social distancing.
COVID-19 measures
Bedfordshire has been placed in COVID Tier 2 from 2nd December.
We are pleased to confirm that A Christmas Carol will go ahead as planned.
With the re-opening of our theatre, it is important to us that audience members know our new procedures in advance. Our COVID-19 measures are for your safety and for the safety of our volunteers.
The full list of our COVID-19 measures can be found on this page.
We look forward to welcoming you back to Sharnbrook Mill Theatre where our volunteers have worked tirelessly to ensure that you can enjoy the performances in style and safety.
Press and Media
Press and media enquiries about this special event should be made via our liaison, Alexandra Goodbody.
Artwork for the production
A JPG of the poster is available here and a PDF is available here.